If you're looking for a DIY Ramadan calendar idea, make this pretty Ramadan calendar with ornaments! Although Ramadan doesn't fall anywhere close to Christmas in 2018, you can purchase plastic ornaments online from Oriental Trading year round.
Inside each ornament is an act of kindness written on a small piece of paper. However, to make opening the ornaments more fun, I filled each ornament with purple and yellow pom poms (the colours of Ramadan.) The pom poms make the ornaments look super fun and pretty – plus I love the texture and softness of pom poms. They're perfect for kids ages 4+. (Not to mention, poms poms are easy to clean up once the ornament is opened.) Here, I've hung the ornaments in a garland so this countdown calendar can double as decor for the living room or the kids' room. Just make sure that if you're hanging all 29/30 ornaments together as one garland, you use really strong hooks to hang the garland.
Materials
30 plastic ornaments, available at Oriental Trading
Purple and yellow pom poms, plain and sparkly (separate colour bulk packs are ideal for this craft as you will need a lot of pom poms to fill up the ornaments)
Fiskars 1/16 Inch Hand Punch, Circle">Small hole punch
Yellow card stock paper
Scrap piece of white cardstock paper
Plain white computer paper (for writing out acts of kindness)
Marker
Scissors
Twine
Purple ribbon
Numeral stickers (optional)
Steps
Prepare the Ornaments
1. First, write out 30 acts of kindness/ good deeds on a plain white sheet of computer paper. Cut each one out and fold up.
2. Then, fill a clear plastic ornament with purple and yellow pom poms. Add the folded up sheet with the act of kindness written on it. Repeat 29 more times with the rest of the ornaments.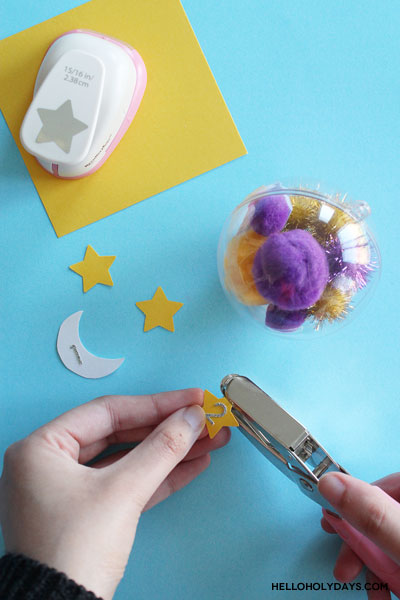 3. Use a star shaped paper punch and yellow cardstock paper to cut out stars. You can also cut out crescent moons if you like by drawing the shape on a scrap piece of white card stock. But, it's faster to cut out stars thanks to the paper punch. (Or you can opt for a crescent moon only for the first and last day of Ramadan.) 
4. Use the small hand punch to make a piercing at the top of each star (and crescent moon if using.) Number each star with either stickers or a marker. (Note: if using stickers, make sure they're not too large for your star punch. Otherwise, use a marker.)
Assemble the Calendar
5. Thread twine through the star and then thread the twine through the ornament. Tie a knot. Repeat for all ornaments.
6. Hang all ornaments on purple ribbon so they display as a garland.
Special thank you to Oriental Trading for providing the ornaments for this crafts!
*Please note all Hello Holy Days crafts are for personal use only, they should not be made or adapted for commercial purposes.
Hello Holy Days Shop!
Shop products by Hello Holy Days!
Did you make this DIY of ours? We'd love to see it! Share with us on social media @helloholydays.
If you make this DIY and share photos of your version on your own blog, please be sure to include a link back to this page as your source of inspiration and tag @helloholydays on all social media.